Soyabean Extruder
From:BEDO MACHINERY Date:2017-03-06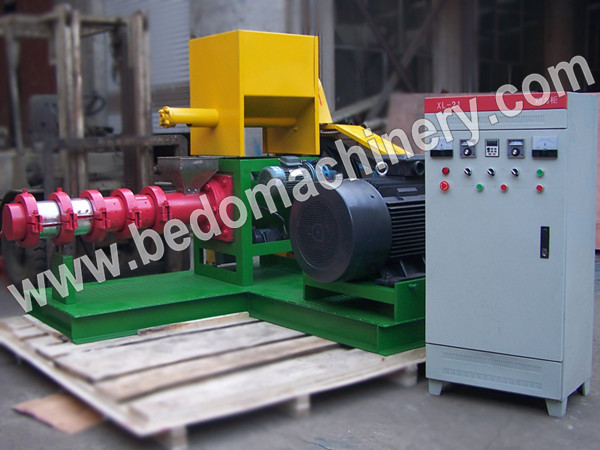 APPLICATION
The extruder is designed for production of:
◆ mixed feed for domestic animals: cattle, swine, poultry and pets (cats and dogs)
◆ rice bran, full-fat extruded meal from soybeans, rape and sunflower seeds with increased digestibility and
harmful bacteria purifying
ADVANTAGES
◆ compactness
◆ animal feed of high quality
◆ purifying the raw material from bacteria
◆ the digestibility of feed is increased
◆ low level of anti-nutritional factors in soya and rapeseed
RAW MATERIAL

soybeans, rapeseed, pea, lupine and other grain crops
PRINCIPLE OF OPERATION
The first step is the pretreatment of raw material. It must have the proper moisture and must be cleaned
from metal residues and any waste.
Raw material is fed from hopper intoa screw barrel. Magnet catcher is installed within a hopper so it can catch
any metal residues you've missed. Inside the barrel there is a screw that conveys the raw material forward to
outlet die.
Extrusion is a process of thermal treatment, sterilization, dehydration, texturing and granulating of the final
product.
The product goes through the barrel while the heat is progressively increased.
During thisprocess most potentially harmful bacteriaand viruses are killed, inhibitor trypsin level in extruded
soy is reduced.
The final product is shaped by forcing out through the die.