Dry Type Fish Feed Extruder
From:BEDO MACHINERY Date:2017-03-06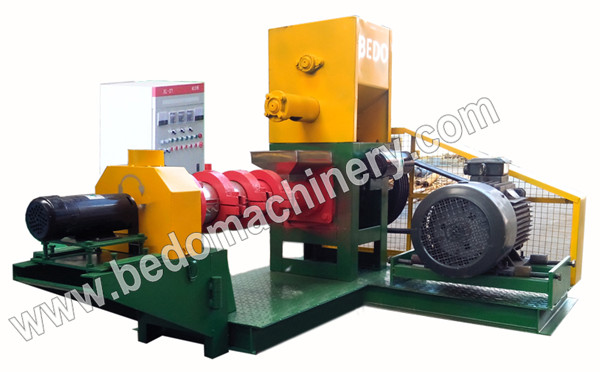 Floating fish feed extruder can make feed for fish, cat, any other animals. The raw material can be
fish meal, bone powder, grain powder, etc.
1. Composed of feeding system, extruding system, cutting system, controlling system.
2. Automatic temperature control system, make the temperature controlling more directly view and
the parameter more precise.
3. Works well in long time and continuously using, running steadily and reliably, easy to operate.
4. Make floating and sinking fish feed pellets.
5. Floating time more than 24 hours.
6. The feed is easy to be absorbed and digested.
7. Equipped with automatic electric cabinet, working automatically.
8. We will provide a set of spare parts for free of charge.
9. If you want to build an assembly line, we have professional engineers to design the plant for you.

APPLICATION
◆ for mixed sub humid feed in pellet form for sea and river fish, shrimps and crustaceans
◆ for high-protein multicomponent feed
ADVANTAGES
◆ both types of fish feed: floating and sinking, depending on the applied formulation
◆ change the size of feed pellet replacing form of the die
◆ high nutritional value of the feed due to the destruction of cell membranes, dextrinization of starch
and denaturation of the protein
◆ pellets strength
◆ possibility to add vitamins directly into the feed mixture
◆ get a fast fish gain (up to 20%) at reduced feed cost

TECHNICAL CHARACTERISTICS
| | | | | | | |
| --- | --- | --- | --- | --- | --- | --- |
| Model | BD-GP50 | BD-GP60 | BD-GP70 | BD-GP80 | BD-GP90 | BD-GP120 |
| Capacity | 60-80kg | 120-150kg | 180-250kg | 300-350kg | 400-450kg | 500-700kg |
| Main power | 11kw | 15kw | 18.5kw | 22kw | 37kw | 55kw |
| Feeding power | 0.4kw | 0.4kw | 0.4kw | 0.4kw | 1.1kw | 1.1kw |
| Screw diameter | Φ50mm | φ60mm | φ70mm | φ80mm | φ90mm | φ120mm |
| Cutter power | 0.4kw | 0.4kw | 0.4kw | 0.6kw | 0.6kw | 1.5kw |
| Pellets size | 1-8mm | 1-8mm | 1-8mm | 1-8mm | 1-8mm | 1-8mm |