Charcoal Briquette Machine
From:BEDO MACHINERY Date:2017-03-06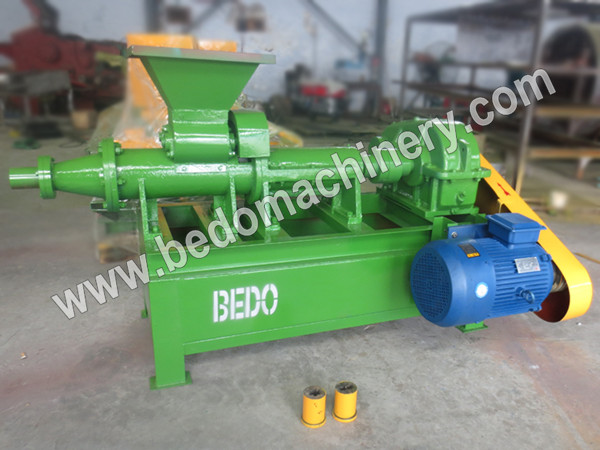 INTRODUCTION
1. This machine can make coal and charcoal powder into sticks. This is the first step to make silver
charcoal.
2. The shape of the sticks can be made by customers' requirements.
3. The final product made by this machine is no pollution or smoke.
4. It is suitable for charcoal powder, wood charcoal powder, coconut shell charcoal powder, rice husk
charcoal powder, charcoal dust, coal powder.
5. Material required size: <3mm
6. The shape and size of stick can be made as required, such as round, hexagon, cinquefoil, and other
shapes, in the stick center, it can be made with a hole or not.
7. For the length, the automatic cutter is available.
WORKING PRINCIPLE
(1) The motor transmits power to transmission through the V-belt.
(2) At the same time, the transmission output shaft transmits power to propeller through the couplings,
and the propeller push forward charcoal powder through forming die to produce the ideal high-pressure
charcoal stick.
APPLICATION
This charcoal briquette machine is widely used in chemical industry, metallurgy and ceramic industry, etc.
It is the ideal equipment for enterprises to improve production efficiency and reduce consumption.
REMARKS
A: Charcoal rods section 15-80 mm in diameter, also can be square model
B: The particle size < 5 mm adding material
C: Charcoal contains moisture content 12-14%
TECHNICAL CHARACTERISTICS
| | | | | | |
| --- | --- | --- | --- | --- | --- |
| Model | BD-MBJ140 | BD-MBJ160 | BD-MBJ210 | BD-MBJ300 | BD-MBJ400 |
| Capacity (t/h) | 1-2 | 2-3 | 3-4 | 4-5 | 6-10 |
| Diameter of final product (mm) | 46-60 | 39-60 | 35-60 | 35-60 | 35-60 |
| Quantity of screw vane (pc) | 4 | 4 | 4 | 4 | 4 |