Wood Peeling Machine
From:BEDO MACHINERY Date:2017-03-02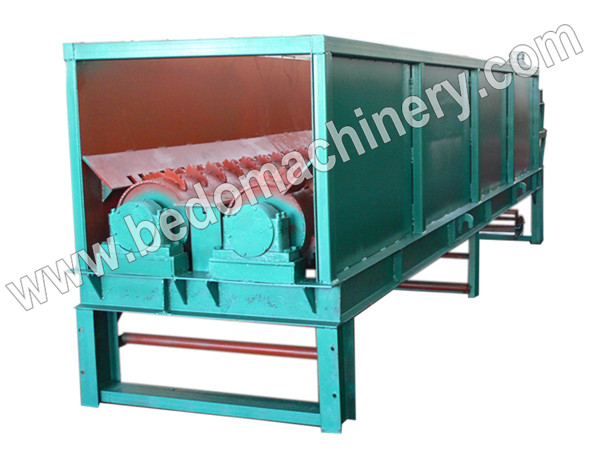 INTRODUCTION
Wood peeling machine, also called wood barking machine, belongs to one of the series of wood processing machinery. Wood peeling machine is suitable for large, medium and small paper mills, pulp mill, wood factory, wood processing plant, forestry factory, timber yard, artificial board factory (such as plywood plant, medium density fiberboard factory etc.).
Wood peeling machine is mainly composed of feeding apparatus, discharging apparatus, the cutter, transmission system, chassis parts, etc.
FEATURES
◆ Adopt four-side edge cutter, easy to use, low cost.
◆ The cutter can be adjusted by hydraulic pressure, advanced structure, reliable performance.
◆ Feeding apparatus adopts stepless speed change, has a good peeling effect on frozen wood, bending wood, such as eucalyptus, oak wood, elm, etc difficult peeling tree species.
◆ Above 95% peeling rate, high productivity, under 3% wood loss rate.
HOW TO OPERATE?
a. Put the logs and tree branches into the cylinder, close the feeding baffle, then start the machine, running as the clockwise direction, the cutter will strip wood skin.
b. After fifteen minutes, stop the machine, open the discharging baffle, then start the machine and counterclockwise run two minutes, the peeled wood can be automatically sent out by roller.
TECHNICAL CHARACTERISTICS
| | | | |
| --- | --- | --- | --- |
| Model | BD-DR6 | BD-DR9 | BD-DR12 |
| Roller Number | 2 | 2 | 2 |
| Capacity (t/h) | 5-10 | 10-15 | 15-25 |
| Wood loss rate | Under 3% | Under 3% | Under 3% |
| Max. Wood bending rate | 0.08 | 0.08 | 0.08 |
| Power (kw) | 5.5x2 | 7.5x2 | 11x2 |
| Diameter range of peeling | 20-500mm | 20-500mm | 20-500mm |
| Peeling rate | Above 95% | Above 95% | Above 95% |
| Roller length | 6m | 9m | 12m |
| Overall size (mm) | 6000x1310x1550 | 9000x1500x1700 | 12000x1550x1700 |
| Weight (kg) | 3000 | 4000 | 7500 |