Rotary Drum Dryer
From:BEDO MACHINERY Date:2017-03-02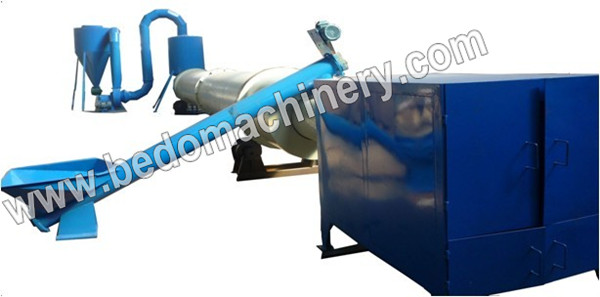 INTRODUCTION
The rotary drum dryer is your best choice for high capacity applications involving high moisture, friable, free-flowing products and by-products. It takes advantage of

the stability of roller and homogeneity of air, which shows the features of perfect drying effect, easy operation, high efficiency.
FEATURES
◆ Rotary Dryer is specially designed with fire stove, rotary drum, motor reducer, cyclone, air-lock and bag-type dusts collect system.
◆ It is suitable for high moisture content of 40%-60% or high capacity more than 1000 kg per hour production request.
◆ The moisture content of final dried material can be less than 20%, suitable for briquetting or pelletizing process.
TECHNICAL CHARACTERISTICS
Model

BD-GT650

BD-GT800

BD-GT1000

BD-GT1200

BD-GT1500

Capacity (kg/h)

600-800

800-1000

1200-1500

1500-2000

2000-2500

Main Power

5.5kw

7.5kw

7.5kw

11kw

15kw

Air lock power

1.1kw

1.5kw

2.2kw

2.2kw

2.2kw

Weight

2600kg

2800kg

3800kg

4500kg

5000kg

Diameter of roller

0.68m

0.8m

1m

1.2m

1.5m

Length of roller

9m

10m

10m

10m

10m

Speed of roller

3-5turn/min

Fuel consumption

80-100kg firewood per hour

Moisture

From 30-70% to 8-12%