Wood Drum Chipper
From:BEDO MACHINERY Date:2017-02-28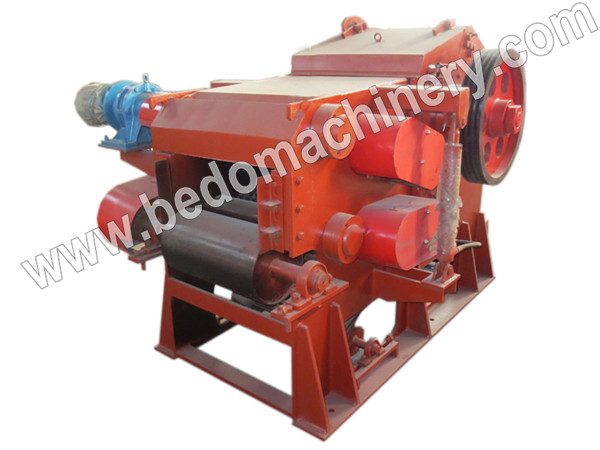 DRUM CHIPPER INTRODUCTION
The drum chipper is used for processing wood logs or tree branches into 20mm-40mm wood chips for various wood products industries and plants. Known as wood cutting machine, wood chipper belongs to wood processing equipment series. Wood drum chipper is widely used in particleboard mill, medium or high-density fiberboard factory, biomass power plant, wood pellet plants and other industrial production factories.
RAW MATERIAL
The raw material is wood logs, timber harvesting, processing residues (such as branches, twigs, planks, logs cores, waste veneer, etc.), it can also be used for cutting non-wood materials (such as sugar cane, reed, bamboo, etc.).
DRUM CHIPPER INNER STRUCTURE
This wood chipper machine is made up of machine body, knife roller, the upper and lower feed roller, conveyor belt, hydraulic system.
The machine adopts high strength steel plate welded together, is the supporting basis of the whole machine.
Install two or three, four flying knives in the knife roller. Using the fly-knife bolt specially manufactured to fix these fly-knives on the knife roller through the pressure block. According to different thickness of cutting materials, the upper feed roller can fluctuate within a certain range with the aid of hydraulic system. Qualified wood chips fall down through the sieve holes, and are discharged from the bottom; large wood chips will be cut again within the machine.
Hydraulic System: for by the oil pump to the fuel tank, you can start the cover for easy blade replacement; can lift the upper feed roller assembly when maintenance, easy to adjust throwing knives, the gap of dead knife and dismantling of the comb plate.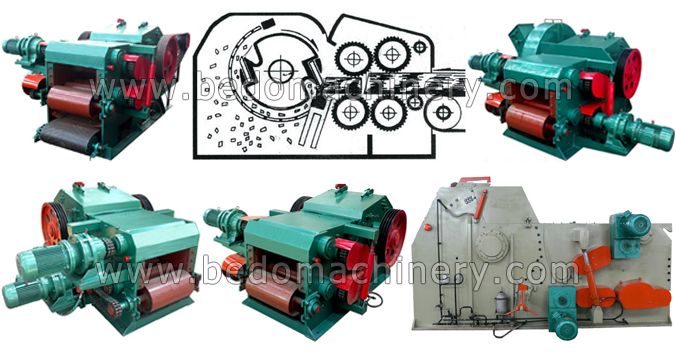 TECHNICAL CHARACTERISTICS
Model

BD-BX215

BD-BX216

BD-BX218

BD-BX2113

Inlet size(W*L) (mm)

170*430

240*540

310*700

400*700

Blades number (pcs)

2

2

2

3

Knife roller speed




(turn/min)

590

590

590

420

Max. Diameter (mm)

170

200

300

380

Woodchips size (mm)

25-35

30-35

25-35

25-35

Capacity (t/h)

3-5

5-8

12-15

25-30

Main motor power (kw)

37

55

110

220

Feed roller motor power




(kw)

3+3

3+4

3+4

7.5+7.5

Oil pump motor power




(kw)

1.5*1

1.5*1

1.5*1

3*1

Weight (kg)

3200

4300

7000

11800

Outline Dimension




(L*W*H)(mm)

1540×1240×1420

2000×1900×1650

2670×2150×1900

3670*2517*2050

Conveyor motor power




(kw)

3

3

4

7.5